Lonestar Christmas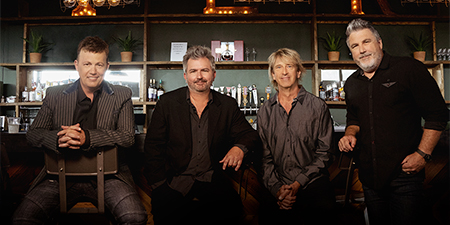 Friday, December 1, 2023 at 8:00 PM

Lonestar is an award winning, chart topping American country music band that consists of Dean Sams (keyboards, acoustic guitar, background vocals), Micheal Britt (lead guitarist, background vocals), Keech Rainwater (drums) and Drew Womack (lead vocals, guitar).

Not many bands can say that they were able to make their chart-topping songs of the past today's greatest modern hits. This year Lonestar released the album TEN to 1 where they took their greatest hits such as "No News", "Come Cryin' To Me", "Everything's Changed", "Amazed", and turned them into modern day country hits.

"We've all played these songs live so much that we've morphed them over the years and play them a little bit differently," Sams says. "In re-recording them, it was taking all the different things that we have done and harnessing it into the best direction for today. Michael's got a lot better guitar sounds than he had when we made a lot of these hits; Keech has better drums."

Tickets are $35, $40, $50 and $55 plus applicable online/phone ticketing fee. This fee is waived when tickets are purchased at Café at 22 & Vine inside Walker's Bluff Casino Resort®. All ages are welcome. Doors will open one hour prior to showtime.

Please note, when purchasing tickets to our events, we do not recommend using a third party resale site. Tickets may be purchased directly from our website or in person at Café at 22 & Vine.

Must be 21 or older to gamble. If you or someone you know has a gambling problem, crisis counseling and referral services can be accessed by calling 1.800.GAMBLER (1-800-426-2537).